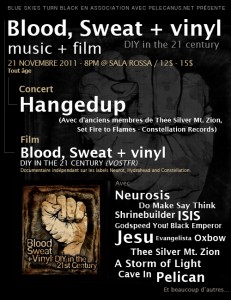 EVENT DETAILS
21 November 2011 @ 8:00pm
Sala Rossa, Montreal, QC
12$ / 15$ at the door
Tickets
This event has been on our screenings calendar for a while, and it's hard to believe that it's happening in just a week! The amazing folks at Pelecanus have put together an evening that includes a screening of BS+V and a unique performance by one of the featured Constellation bands: Hangedup.
As if that weren't enough, Director Kenneth Thomas will be projecting short films created solely for the Hangedup performance that night. This is an incredible band to experience live, and Kenneth is honored and excited to collaborate with them. We strongly recommend that you to attend!
More information at the Pelecanus site.