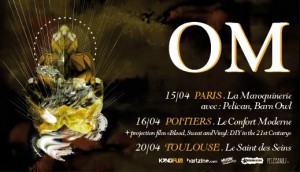 They're not in the documentary, but OM is always in heavy listening rotation at BS+V headquarters. We love these guys, have seen them play live many times, and are downright honored to be sharing the stage with them on the 16th of April in Poitiers, France.
This is also a good time to let you know that this date is part of a BS+V film tour planned for France in April. The incredible folks at Kongfuzi have put together a killer tour schedule that we hope to announce soon. The film will share the stage with several more awesome bands, and Director Kenneth Thomas will be present for a few of the dates to do some Q&A's.
Until then, please enjoy this beautiful and mesmerizing OM poster. We're kinda hypnotized by its awesomeness.