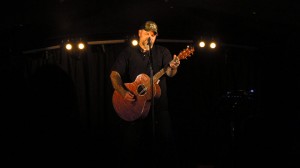 We're back from France, and we have a lot of photos, a lot of stories, and a lot of people to thank. We would especially like to thank all of you who attended the screenings throughout France, organized by the almighty Kongfuzi team! We'll be posting a much more elaborate report in a couple weeks, so keep an eye out for that.
In the meantime, we wanted to let folks in Greece, Russia and Germany know that Scott Kelly of Neurosis is headed your way! He's on his solo tour right now to promote a new album released through Neurot and My Proud Mountain. The album features Scott Kelly, Steve Von Till and Wino – all performing covers of the brilliant Townes Van Zandt.
You'll find a few copies of the BS+V DVD and box set on Scott's merch table, so you can pick that up too if you're lucky enough to catch his show. His solo performance has the same intensity he brings to Neurosis, but a beauty and soulfulness all his own.