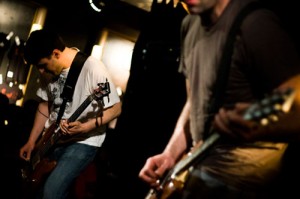 In September 2012, Hydra Head Records announced their imminent demise. Bands and bills still need to be paid, so a swan-song benefit party is being thrown for the ex-Boston-based label with a live performance by The Austerity Program at the Coolidge Corner Theatre in Boston, Massachusetts, on Friday, November 30th.
The Austerity Program is a two-piece band from New York City – guitar, bass and drum machine. Heavy emphasis on rhythm and almost none on melody. Expect to hear songs about C-list cartoon rabbits, despised albinos and suicidal arsonists, all played through about 3500 watts of amplification. On Hydra Head from 2002 until last month.
Following the band performance will be the 1-year anniversary screening of Blood, Sweat + Vinyl. We here at BSV HQ are honored and thrilled to be a part of this event, and we hope that the combination of this screening and a rare performance by The Austerity Program will bring out tons of folks to help support Hydra Head – and in the label's hometown, to boot!
A fundraising raffle featuring items donated by Hydra Head, Constellation Records and Neurot Recordings will also be held the night of the event.
More information and tickets sales at www.coolidge.org