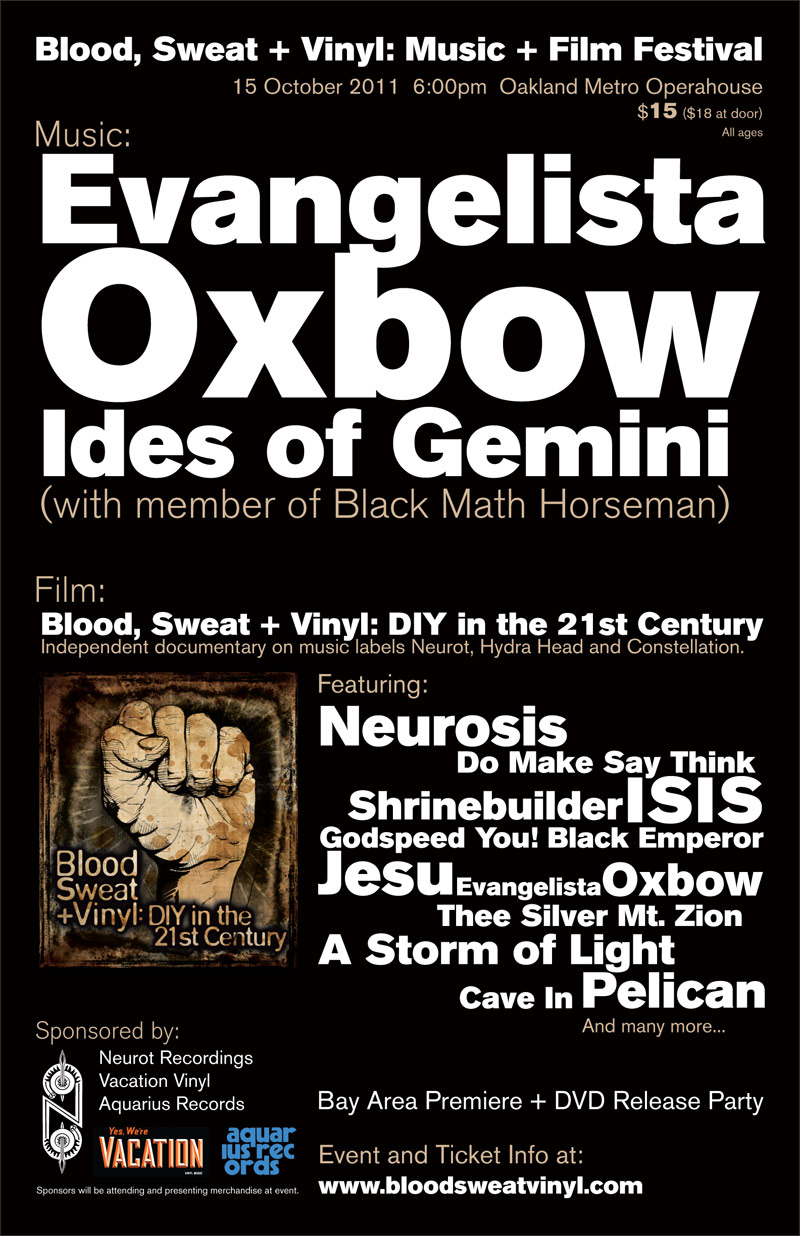 Oakland Metro
15 October 2011
6:00pm
$15 ($18 at door)
All ages

The event is sponsored by:
Neurot Recordings
Vacation Vinyl
Aquarius Records
Blood, Sweat + Vinyl is finally premiering in our home city! After all these years of toil, it didn't seem like enough to simply show the film in a local theatre and chat politely afterwards about it.
We wanted to present the film in the same environment that inspired it all: in a small, dark club with bands from the film playing live for a noisy, enthusiastic crowd. There were so many bands that we wanted to play, and so much film footage that we wanted to show, that we decided to create something special:
Blood, Sweat + Vinyl: Music + Film Festival.
During the event we will be screening the film along with 2 hours of exclusive band footage available on the DVD Box set.
AND… we proudly announce that the following bands will be performing:
Evangelista
Oxbow
Ides of Gemini
The two headlining bands – Oxbow & Evangelista – feature prominently in the film, and we are really excited to have them perform at our premiere. If you're not already listening to Ides of Gemini – you should be! We're pretty sure you'll love them as much as we do. And you'll definitely be seeing their name a lot more in the near future.
This is also our DVD release party!
Box sets will be on sale, along with merch we won't be selling anywhere else. Also in the merch area will be our fabulous sponsors who played key roles in making the film happen. They'll have a wide selection of CDs, DVDs, shirts, stickers and more!