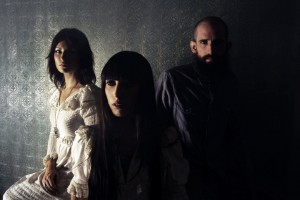 photo by Sera Timms
Part of the reason it takes our little team a long time to do things is because we are very careful about our decisions, and we want to do things right.
For example, picking bands to play at our DVD Release Party:
We wanted one band from each label to play, and Evangelista was an early candidate from Constellation. We are damn lucky that such a fine representative of the Montreal label is local to our area. Aquarius Records describe them as "…gut wrenching, hand wringing torment while still embracing a melodic beauty…"
Next, Hydra Head.
Bands on Hydra Head practically live on the road, and it can be tricky to add a date to their schedule. We considered several groups, but Oxbow emerged as an excellent representative of a band that has fully embodied the DIY spirit throughout the years. Again, from Aquarius, Oxbow is described as "…totally heavy, insane, noisy emotionally cathartic art rock mayhem…"
Finally, Neurot.
Wait… what? Which one's the Neurot band?
Funny you should ask!
Some folks wondered why we chose Ides of Gemini for the lineup out of all the bands that could have played, and especially when other bands wouldn't have to drive 420 miles to get here.
We had a little inside info on this one, and as of this morning Ides of Gemini are officially signed to Neurot Recordings. We are completely stoked for them! October 15th will be their first gig as a Neurot Recording artist, so come out, support them, and find out what they're all about!
An excellent portrait of Ides by Invisible Oranges:
"Lo-fi, sort-of-black-metal-influenced…reverb to an unhealthy extent…the result is honest and magical."
Congratulations, guys! We are stoked to celebrate with you next week!