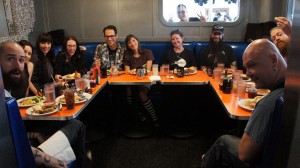 We are exhausted.
But happy.
We are happily exhausted.
Below are some photos from the release party, but a few things were not documented on film and must be noted:
– the venue had to be aired out after Ides of Gemini's bass amp proved too heavy for their fuse box, causing a smoky blow-out.
– Oxbow delivered an intimate acoustic set on the floor of the venue, before taking to the stage to pummel us with added volume. If you were there, you witnessed something rare and special.
– Evangelista's performance was a special treat for the folks that remained to the end of a long and epic evening. Those that stayed were witness to lovely renditions of tracks from their latest album and one of the best versions of "Hello, Voyager" that I've ever heard. Thanks, guys, for giving us an intense performance in the late hours of the night.
You can see a lot more photos along with more info on our Facebook page or in our Flickr gallery.