NOTES ON SHIPPING: We ship DVDs & Box Sets anywhere in the world. Shipping costs for Box Sets are based on destination. Shipping for single DVDs is free.
Film DVD
$16USD + free shipping
Documentary DVD (90 min)
Region-Free NTSC 
French and Spanish subtitles
Limited Edition: 2-DVD Box Set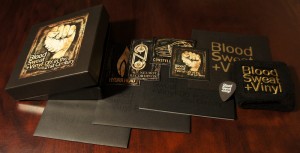 $30USD + shipping
This box set is being released as a limited edition of 2000, each one assembled and numbered by hand.
The Blood, Sweat + Vinyl: Limited Edition
2-DVD Box Set includes:
Documentary DVD (90 min)
Extras DVD (114 min)
Exclusive live concert footage of:

1. ISIS "Gentle Time"
2. Thee Silver Mt. Zion Memorial Orchestra

"Take These Hands and Throw Them in the River"
3. Grails "Silk Rd"
4. Do Make Say Think "Ontario Plates"
5. Jesu "Silver"
6. Made Out of Babies "Wounded Rhino"
7. Neurosis "Distill (Watching the Swarm)"
8. ISIS + Tim Hecker – Live improvised collaboration
9. Evangelista "Hello, Voyager!"
10. Oxbow "Stallkicker"
11. Neurosis "Water Is Not Enough"
12. Cave In "Juggernaut"
13. Pelican "Last Day of Winter"
14. Thee Silver Mt. Zion Memorial Orchestra 

"North American Motor Over Smoldered Field"
15. ISIS "Carry"

DVDs are Region-Free NTSC 
French and Spanish subtitles
Full color booklet with band profiles, production notes, and photo diary of film
Bundle of film merchandise goodies