Neurot Recordings
is a fiercely independent label dedicated to the spirit of sound.
Formed by the members of Neurosis as a means to further their musical vision while achieving control of their own destiny, the primary function of NR is to serve as an outlet for the increasingly prolific output of all their related projects.
NR is also committed to releasing other artists who feel the fires of inspiration. Artists are invited to the label as kindred spirits. These artists must create sound art or music that is original, emotional and epic. It is the intent of Neurot Recordings to release some of the most interesting and inspired pieces of music that exist.
Constellation Records
have released bands from the Canadian west coast, the United States, and Europe, though their artist focus remains predominantly regional. i.e. projects based in Montreal, the province of Quebec, or Central/Eastern Canada.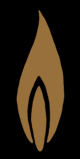 Hydra Head Records
"Don't like it? Don't buy it!"