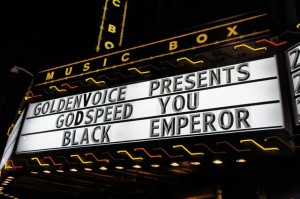 April has turned out to be a ridiculously busy month. Never before have we been so frustrated with the lack of progress in the science of cloning. We wish there was a way we could be at all three of the BS+V related events this weekend, but we are limited to attending only one of them.
The French tour of BS+V, organized by Kongfuzi, starts this weekend and extends through May. You want to know how awesome the schedule is that they put together? Well, the film will be playing alongside incredible musicians like Scott Kelly, Eugene Robinson, Stephen O'Malley, Om, Pneu…. It's beyond our greatest dreams! Check the screening schedule to find out if there are any dates near you. We'll be there to do Q&A's for 6 of the screenings, starting on Tuesday the 17th. We are super stoked for the shows and to meet folks who have been incredibly supportive of this project for a long time.
Also beginning this week is Roadburn! BS+V will be in rotation all weekend, along with "Black Mass Rising", "Puzzleface" and "Slow Southern Steel". All of these films are worth tracking down even if you just want to watch them from the comfort of your couch. But for those of you lucky enough to be at Roadburn, it's an awfully nice way to rest your feet and still be in a heavy music frame of mind. Let us know if you happen to see it in Tilburg this weekend!
The third event happening this weekend is the one we chose to attend and are absolutely giddy just thinking about it. It has been a pretty awesome 15 months experiencing the reincarnation of Godspeed, and we confess that we've gone to some rather extreme lengths to catch their shows during that time (including a near-death experience that's worth a story, but we'll tell that story another time).
We can't help it. We are junkies for Godspeed shows, and this weekend they'll be playing in Big Sur – in the middle of one of the most beautiful forests in N. America, right on the California coastline. We'll be drinking in the epic tunes beneath towering redwood trees, and sleeping in tents just a few feet away from the stage. The next morning we'll be packing up our camp, driving back to San Francisco, and boarding a plane for our adventure in France.
Hope to meet up with some of you along the way! We've gotten to connect with a lot of you through the film, and it makes us really happy to meet other people who share our love for this music and excited about what's to come.