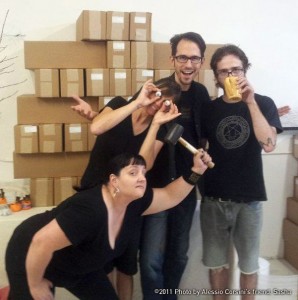 Thanks to everyone who has reported back with enthusiastic reviews about the box set and the film!
We want this film to be easily available to everyone who is interested in it, so the box set is not the only way the film will be officially provided. It is a limited edition that exclusively contains the 2nd DVD of live footage, along with a slew of BSV merchandise. We made sure to get that out first so fans could enjoy the maximum amount of video that we've shot over the past 5 years. However, we realize that many folks want to see the film above all else, so we are investigating the below options.
Right now we are looking for the best distribution partnership that will make the film affordable in a high quality format through various streaming services. A good partnership might also allow the film to have a more organized theatre run and a wider selection of languages for subtitles. We will provide an update on distribution when we have it.
In the meantime, we have added an On-Line Cinema feature that allows access to some (not all) of the footage on the Extras DVD. Currently we have clips of Neurosis, ISIS and Thee Silver Mt. Zion available. Most of the footage on the Extras DVD will remain exclusive to the box set, but we wanted to allow everyone to enjoy some clips and sample the quality of the footage.
These clips are 3-camera shoots, with live audio mastered by Aaron Harris (audio engineer and drummer from ISIS). It's an ideal representation of what to expect on the Extras DVD, which contains 15 live clips that were also sweetened by Harris' audio skills. Plug your computer into your stereo and turn it up!
(And, has anybody found the DVD easter egg yet?)